Take Five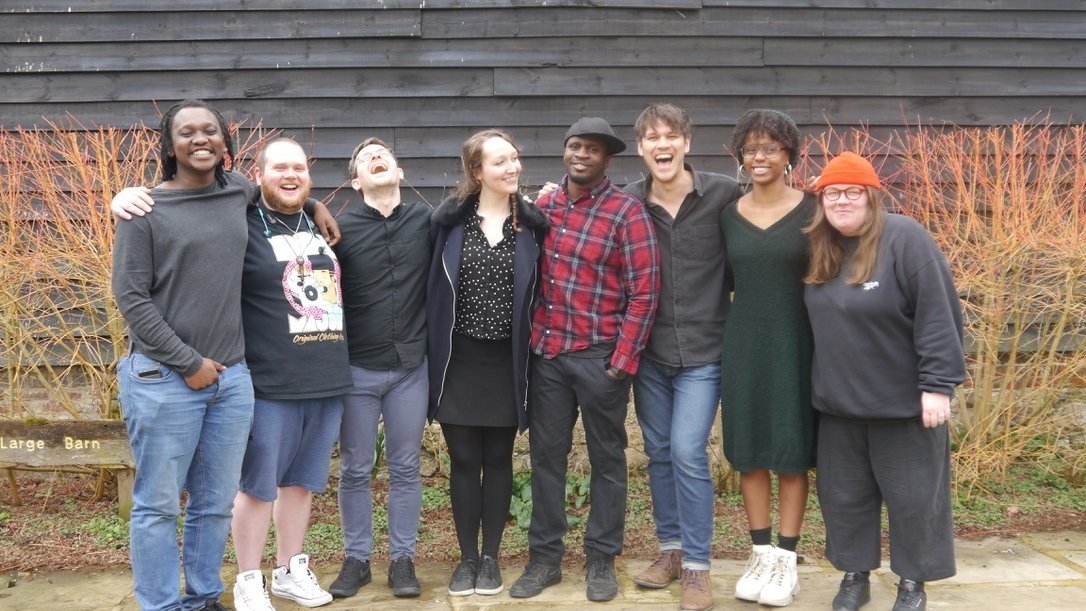 Serious is delighted to bring the 19th Edition of Take Five, its flagship talent development programme for emerging jazz and improvising musicians. 
The Take Five initiative is aimed at British and UK based composer-performers and is designed to give some of the UK's most talented emerging creative jazz musicians the opportunity to take time out to develop their craft, build their careers and get their music out into the world.
Take Five is an annual talent development programme for emerging jazz and improvising musicians/composers produced by Serious, and funded by the PRS Foundation, Help Musicians, Arts Council England, and Serious Trust.

Inaugurated in 2005, the programme welcomes eight of the finest young composers from across the United Kingdom's jazz and improvised music worlds each year and offers them mentorship, collaborations, performance opportunities, and funding – serving as a pivotal moment in their careers and has frequently led to wider recognition, touring, record deals, and more. 

The scheme centres around a week-long residency that brings the artists together with music industry experts, giving them a chance to learn about the complexities of the business in an intimate setting, and offering them the chance to take some time out from their usual busy touring/recording schedules and step back and think about how to advance their music and careers. They also get to collaborate on a series of pieces that each of them arranges for the entire group, directed by the esteemed composer and saxophonist Jason Yarde.

Following the residency, the artists continue to receive tailored mentorship from members of Serious' experienced staff as well as receiving funding towards further mentorship from other music industry professionals. Serious also provides the artists with performance opportunities at the EFG London Jazz Festival and elsewhere – in particular as part of a "Take Five Showcase" which will be launched at the 2020 edition of the festival.

The programme's alumni list reads as a who's who of the British jazz scene ranging from Polar Bear's Seb Rochford (who took part in the very first edition) to Sons of Kemet and The Comet is Coming's Shabaka Hutchings, British/Bahraini trumpeter Yazz Ahmed to rising star Nubya Garcia, as well as musicians from outside the traditional jazz idiom but with a foot firmly in improvisation such as electronic musician Leafcutter John, conductor and arranger Jules Buckley, and Korean flautist Hyelim Kim. You can see every participant by clicking here.

To be considered for the scheme, artists must be between the ages of 25-35 or have been working as a professional musician for at least five years, be primarily based in the United Kingdom (but do not need to a UK national), be leading their own band and/or composing their own music, and demonstrate exceptional talent and future potential. Previous artists could only apply upon being nominated by one of Serious' trusted industry contact, but since 2019 we have also introduced an open "Expression of Interest" system, allowing any eligible artist to put themselves forward for the scheme.

If you have any enquiries about the scheme, please get in touch via our Contact Form.

Find out about how you can support our talent development programmes here.
Applications are now open for the 19th Edition of Take Five. This year we also partner with Black Lives in Music on a mentorship opportunity to an early career music production manager and/or sound engineer from a global majority background as part of the Take Five talent development programme. 
The deadline for applications is 5pm, Thursday 7 December 2023.

Take Five covered all those areas of the business that are usually passed down in a shadowy, vague, oral way, from musician to musician. But by getting the information directly from people obviously at the top of their fields, it meant that each area was thoroughly explored. Having heard it straight from the horse's mouth, I came away feeling like I know what the whole deal is.

Shabaka Hutchings, Edition VI - 2010
I have never before received so much support and encouragement and now think in a completely different way since gathering new skills in how to promote and manage my work, thanks to the guest speakers and tutors. I have been inspired to take more risks, and most importantly, I've found a new confidence in myself as an artist. With this new wave of optimism, I have begun new collaborations, created new opportunities, and am in near completion of my second album - a project I wouldn't have pursued if it weren't for Serious.

Yazz Ahmed, Edition VIII - 2013
Serious and Take Five have been so crucial in connecting me with those that can impart incredible musical knowledge and lend a hand in understanding all other aspects that make being on stage possible. All the while having a chance to sculpt a unique voice to show on some fantastic platforms.

Abel Selaocoe, Edition XIV - 2019