"Sayma, say!"

I start with this word game in Turkish, my native language. "Say" means count, as well as respect. It is this time of the year when these two homonymous words often echo in my mind. This time of the year when women's presence is cherished, and deeds are measured by counting numbers, working out percentages. Whilst we are more than statistics, just one day of "observing women stature" is utterly absurd and the way we are still fighting on all fronts in this day and age is hard to believe, I can still focus on the positives. Anything that creates awareness and make us talk about the achievement of great women, "counts".

From its first conception in the early 1900s, to its worldwide recognition in 1975 by United Nations and onwards, International Women's Day symbolizes the women's demand and exertion for political, economic and social equity. That demand is still there…

I come from a culture where we have substantial issues around women's rights. My personal experience was OK, apart from some minor challenges which I managed to tolerate, sweep aside or simply ignore. Not everyone is as lucky in our polarized society. I had a supportive, secular family, had access to good education, found myself in very liberal circles, had the chance to develop myself in a supportive work environment and enjoyed working for empowering employers.

I have been around quite a while; although it is mostly a pleasurable (and sometimes rocky) ride, the male-dominated jazz/rock scene and production world had moments to alienate me. Not just in Turkey, but also internationally. I chose to focus on the art, the audience and the love between them. Sometimes that meant harder work and choosing introversion. Maybe things would be different in London?

I always loved this city. When I finally arrived to settle here in 2018, an exhibition curated by Prof Catherine Tackley Rhythm and Reaction, The Age of Jazz in Britain was on. It felt like I entered a time tunnel to start off my new journey. The exhibition had a mention of the 1919-1939 period when an emergence of all-female bands in the jazz and dance-band circuit was observed, especially following the outbreak of WWI, when music became an employment and income source for women. Seeing the rare and wonderful photos Hilda Ward's Lady Syncopators and Evelyn Hardy & Her Ladies Band was utterly memorable.

One would think we should have come a long way….

Flash-forward to 2021…In the midst of many Covid-19 related concerns surrounding our industry, Cheltenham Jazz Festival released the long-awaited report on how they observed the Keychange pledge. This research project by Dr Sarah Raine with contribution from Emily Jones, underpins the continuing underrepresentation of women in jazz and criticizes the interpretation on the 50-50 quota set out by the Keychange initiative.

Although most of the research analyses the gravity of the situation by numbers, the narrative around personal experiences of female musicians is an important focus in the report. These anecdotes of gender discrimination, barriers in education, lack of business insight from the higher education, the competitive nature of informal settings and cases of direct sexual harassment reveal the existence of an unpleasant culture. Its findings around gender imbalance in music education reiterate the obvious. This is a very important note that points out to one of the sources of the problem.

Festivals and the artistic programming of cultural organisations are at the forefront for showcasing change; it is our duty. However, there is a limit to what we can achieve unless there is a healthy landscape in music education and support systems to bring up and encourage artist generations with a fair representation of women, non-binary people, and with a diversity of ethnic backgrounds.

I have worked with Serious for 3 years now. My role sits at the core of the potential change, in a company which actively seeks ways to improve issues, not just by words but through actions. Across the EFG London Jazz Festival, our concerts, tours, commissions, creative engagement projects and talent development schemes we showcase our commitment to working with and developing emerging artists, as well presenting local and international established musicians. We work hard to generate space for female and non-binary musicians as well as maintaining an ethnic diversity focus in all of the work we do.

Our talent development policies and programmes support artists with skillsets to lead them to sustainable careers. We are very considerate of our policies working with partners, producers, freelancers and our diverse workforce. For what we do and stand for today, we owe it to artists, creators, communities and collaborators. However, we remain aware there is much more work to be done. There needs to be constant openness to identifying and addressing the gaps, and acting upon them, not just within us but around us.

EFG London Jazz Festival and Serious signed up to Keychange in 2018. We believe it is pivotal to create consciousness around ongoing gender inequality. Whilst it is helpful to provide a basis for a formal policy and gives the basic tools to constantly assess, on its own, it is not enough.

Powerful organisations should pave the way by influencing and leading, bringing their partners, collaborators, suppliers to the same level of recognition and commitment.

Role models are also important. We need to open up more space to them. Angel Bat Dawid, who performed at the Festival in 2018, shared her experience in lacking a role model as a young black girl who wanted to play the clarinet, but there was no one around she could associate with. Now she herself is a role model for young girls, as an improvisor, composer and educator. These stories make the difference.

There are incredible women making music in the UK. Their presence and vision will continue being paragons and open doors to many amazing new generations to come.

There are also brilliant organisations and initiatives who take the lead. Blow the Fuse, founded by Deirdre Cartwright and Alison Rayner in 1989, has played a crucial role in raising the profile of women jazz musicians. Tomorrow's Warriors have been vital in transforming the UK jazz scene, especially with their female alumni. The contemporary music/arts movement and record label jazz re:freshed, continuously empowers female artists for performances and album releases. A younger initiative, Women In Jazz, celebrates female talent through their community. The F-list starts building a database to help UK female and gender minority musicians overcome structural barriers. The Jazz Promotion Network and Europe Jazz Network enable activities achieving gender balance. Programmes by PRSF and Help Musicians UK support female composers and performers, alongside other funding and arts organisations, festivals, promoters, venues, clubs' efforts…. Together we need to make the change. Together we count when we finally get to a place to stop counting to justify respect.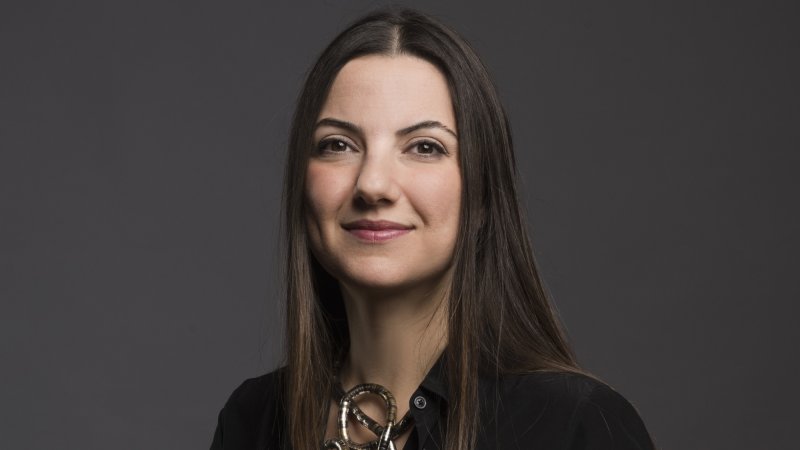 Above image - Pelin Opcin, Director of Programming
Main image - Take Five Talent Development artist Jelly Cleaver performing at EFG London Jazz Festival 2020