Higher Ground Festival 2023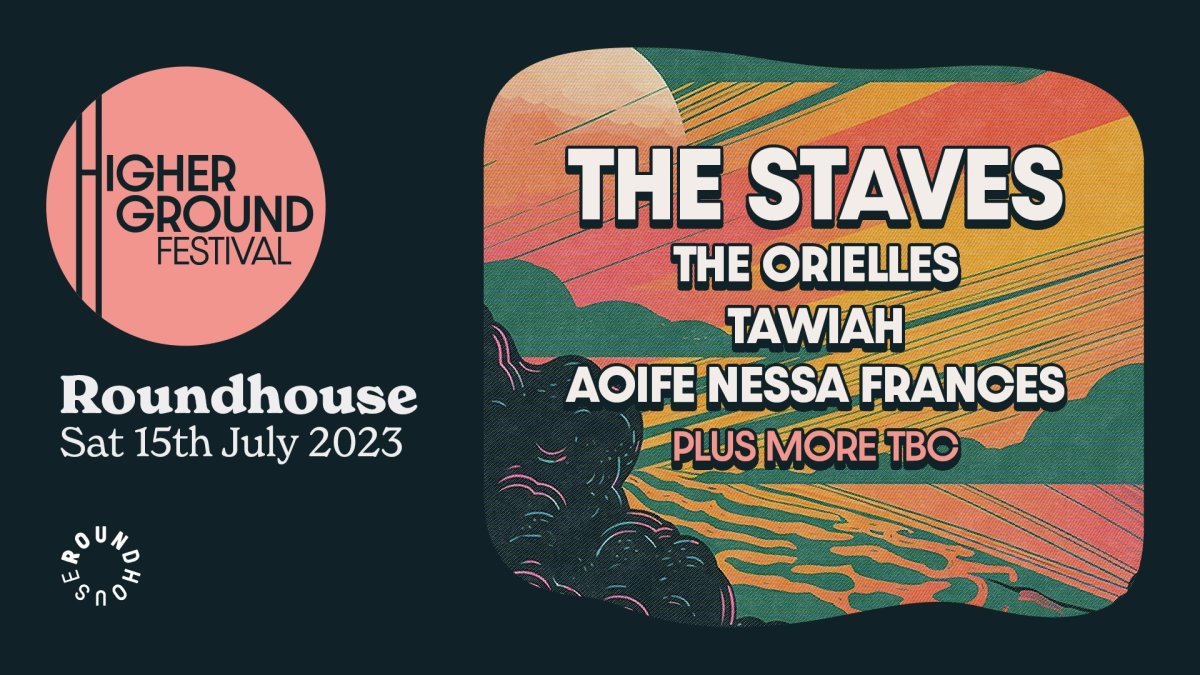 HIGHER GROUND is a one-day festival which boasts an all-female line-up of singer-songwriters, genre defying acts and contemporary sounds. Expect impressive live performances from leading international names, DJ sets and more across the day and night at Roundhouse.
The Staves
The Staves mould their love of Americana and folk into finely crafted tales of love and loss with gently finger-picked guitar and ukulele, and, at the forefront - their breath-taking sibling harmony and melody. 
Since the debut of their album Dead & Born & Grown (2012) over a decade ago, The Staves have earned acclaim as one of modern folk-pop's most astonishing talents. 
The group gratifyingly acknowledge that so many of those fans are young women their own age, whose experiences, burgeoning confidence and defiance, Good Woman (2020) reflects.  Musing on the past, the songs are at first filled with sadness and contemplation before evolving to defiance and hope, with The Staves' voices proving, yet again, that no matter how they're accompanied, they will always remain centre stage.

Higher Ground will be The Staves only live headline London performance in 2023.
"The trio have never been short of star collaborators: early in their career they provided backing vocals for Tom Jones, and their 2015 album If I Was was made with Bon Iver's Justin Vernon. This time, the sisters enlisted producer-of-the-hour John Congleton, famous for his work with St Vincent, Sharon Van Etten and Angel Olsen. Whatever primness remains, 'Good Woman' proves the Staves now slot effortlessly into that roster of intelligent, interesting artists, interrogating life, love and womanhood on their own distinctive terms."

The Guardian
The Orielles
Since forming in the deep underbelly of West Yorkshire, The Orielles have traversed several sonic planes; from their early DIY lo-fi origins to creating a new and modern brand of avant-garde, jazz-influenced expressionism, their latest body of work, Tableau, is their most ambitious and contemporary work yet. Voted Yuck Magazine's #1 Album of The Year and Rough Trade's Top 20 Album, Tableau presents "a rich feast of musical ideas" (Guardian ★★★★) with holistic jazz practices, oblique 21st century electronica, experimental 1960s tape loop methods, otherworldly autotuned vocal sounds, the downer dub of Burial, Sonic Youth's focus on improvisation and feedback, and Brian Eno's legendary Oblique Strategy cards.

The Orielles will be performing Tableau live, along with favourites from their back catalogue, with an accompanied string-led section.
"Inspired by existentialism, Krautrock and John Cocteau's "Orpheus", with "Tableau" they create an experimental and onomatopoeic work of sinister sound thunderstorms and unagitated opulence."


Musik Blog
Tawiah

Progressive R&B artist, writer, producer and multi-instrumentalist Tawiah, has collaborated with the likes of Devonte Hynes, Kindness, Mark Ronson, Cinematic Orchestra and Kano. With a well-earned reputation at the vanguard of the British alternative soul movement and as one of the country's most exciting live acts, Tawiah continues to deliver heartfelt music that connects deeply with her fans.

Tawiah's poignant second album, Ertha (2022) is a concept album, created in collaboration with artist Al Moore through a process of storytelling and musical interpretation where Tawiah composed music in response to a series of original writings and poems by Moore.

Accompanied by a live choir, Tawiah brings her biggest performance of Ertha yet.
"With her undeniable talent, look out for Tawiah to make her mark on our shores."


Queen Latifah
"She's basically your favourite artist's favourite artist."


Jamz Supernova, BBC 1Xtra
Aoife Nessa Frances
Aoife Nessa Frances is an Irish singer-songwriter based in North Dublin whose haunting and sometimes experimental blend of indie folk and lightly psychedelic pop is dramatically conveyed by her lush, dark-toned vocals and elegant arrangements. She released her debut album, Land of No Junction, in January 2020. Her pastoral and ruminative follow-up, Protector, arrived in late 2022 on Partisan. Inspired by the rugged yet serene beauty of Ireland's west coast, the singer-songwriter's tranquil psych-folk explores themes of dislocation, family, and nature.
"Halfway between beguiling folk and melodic luxe."


The Guardian