Between The Lines x ICA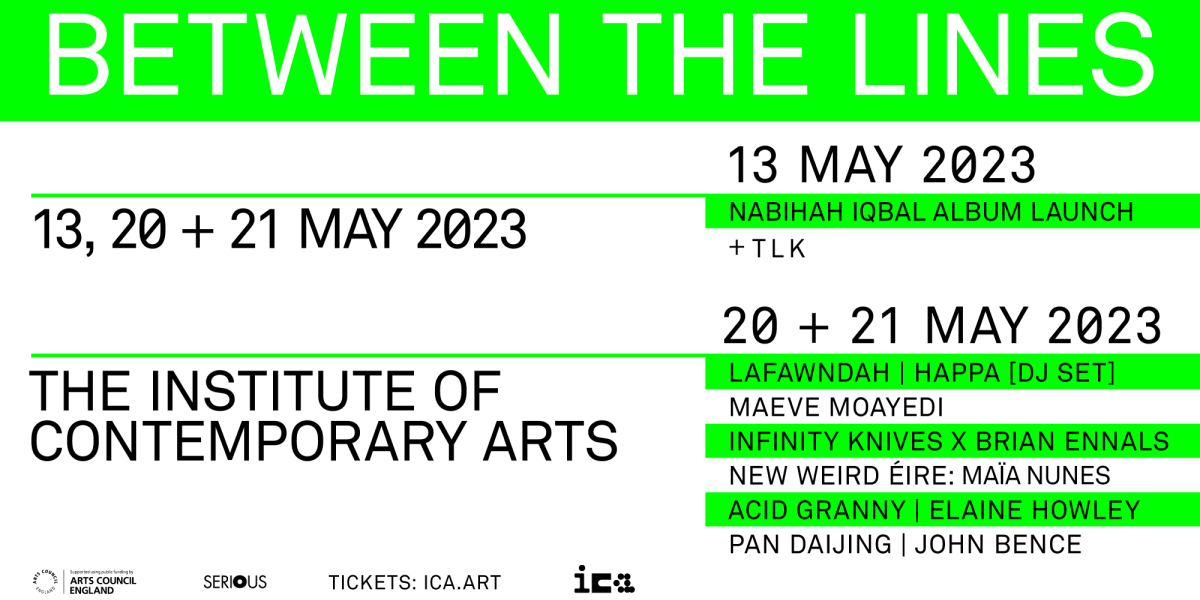 Our annual festival Between the Lines returns on 13 & 20-21 May and this year we're taking over ICA Gallery, bringing together experimental and leftfield artists working in the UK, Ireland and internationally. Join us for a multi-weekender of interdisciplinary performances, with DJs, performance art, and more. There will be performances across the ICA taking place throughout the day and into the evening. Tickets are available to purchase for individual shows, day and weekend passes. 

SATURDAY 13 MAY
Nabihah Iqbal 'DREAMER' Album Launch + t l k
SATURDAY 20 MAY
Lafawndah + Happa [DJ set] + Maeve Moayedi 
Infinity Knives x Brian Ennals + Brian Nasty
SUNDAY 21 MAY
"New Weird Éire": Acid Granny, Elaine Howley + Maïa Nunes
Pan Daijing + John Bence


Watch a selection of performances from Between the Lines 2020 for free online HERE, including performances from Loraine James, Leafcutter John, and an Erased Tapes special.

'Lafawndah's music is proudly rootless. The singer and producer's works are labyrinths of genre and style that teem with trapdoors.'


Pitchfork on Lafawndah
'As a DJ his sets are filled with experimental sounds. There's a darkness to what he plays yet you can't help but want to move in an almost ecstatic frenzy. The resulting juxtaposition is irresistible: the darker his music sounds, the lighter you fee.'

MixMag on Happa
'King Cobra is an unpolished tour de force, full of default presets and dodgy vocoders, and it'll jolt you awake like few records can.'

Loud and Quiet on 'King Cobra' by Infinity Knives x Brian Ennals (Voted Loud and Quiet #1 Album of the Year)