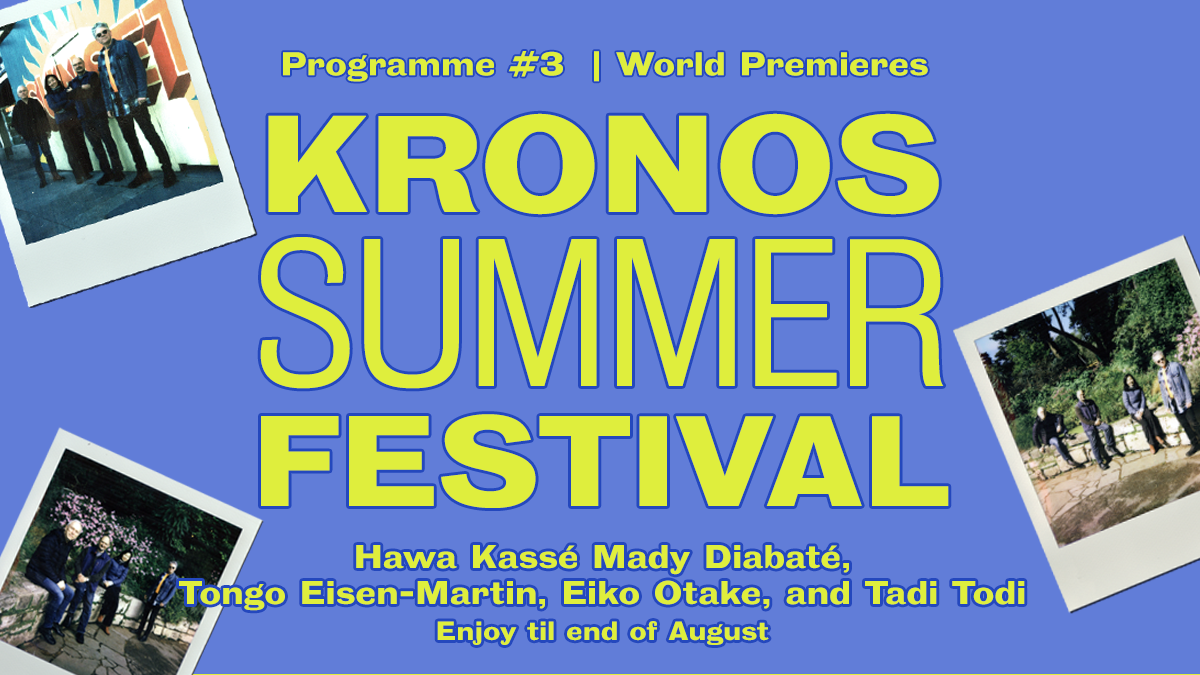 Kronos Summer Festival | Programme #3 | Hawa Kassé Mady Diabaté, Tongo Eisen-Martin, Eiko Otake, and Tadi Todi
Sat 19 June 2021
Stream time / 5:00pm
---
The Kronos Summer Festival ends with a focus on the Black American struggle for civil rights. 
Kronos is joined by San Francisco Poet Laureate Tongo Eisen-Martin in Third in the World, a new film with original poetry. 
Abel Meeropol's Strange Fruit, made famous by Billie Holiday, is heard in an arrangement by Jacob Garchik. 
The recorded voice of civil rights leader Dr. Clarence B. Jones is featured in an excerpt from Zachary James Watkins' Peace Be Till. 
Tadi Todi's Concrete Jungle makes its debut, along with the third of Diabaté's world premieres Kalime, a buoyant triple-meter song with a melancholy tinge. 
Also on the program: A Body in Fukushima, with music by David Harrington, in which legendary movement artist Eiko Otake (of Eiko and Koma) dances on the beach in Fukushima, Japan, near the site of the nuclear plant disaster of 2011. 
Closing the festival on an uplifting note is Terry Riley's One Earth, One People, One Love from Sun Rings.
WATCH THE FULL SHOW BELOW