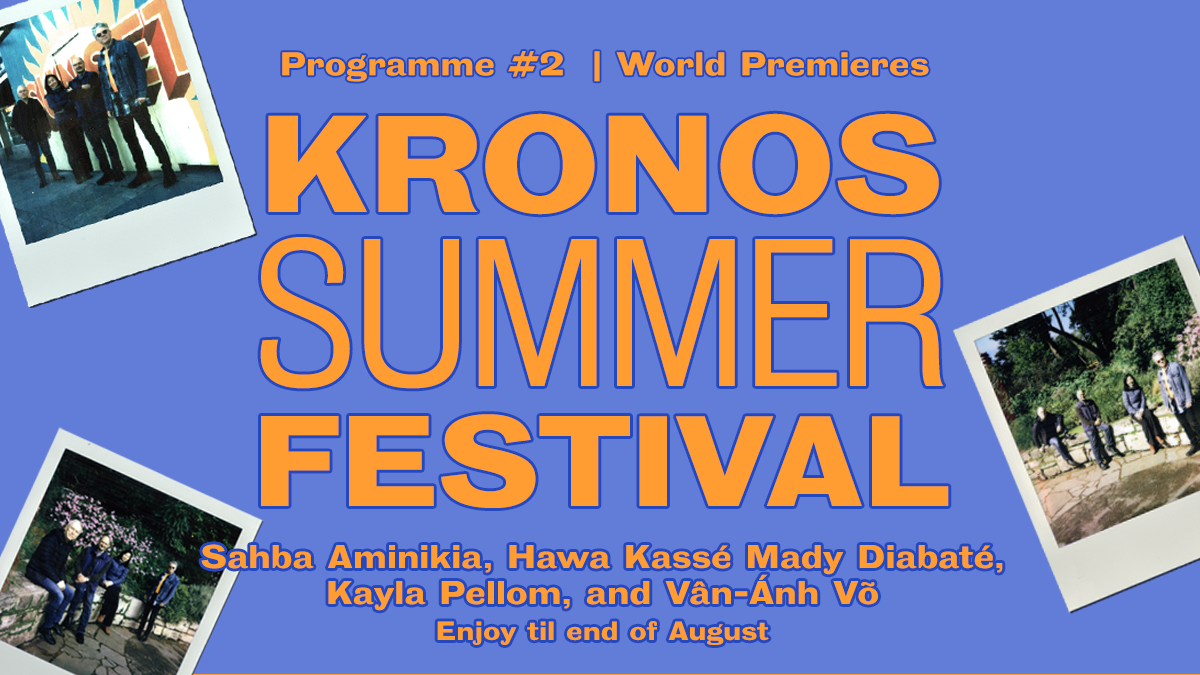 Kronos Summer Festival | Programme #2 | Sahba Aminikia, Hawa Kassé Mady Diabaté, Kayla Pellom, and Vân-Ánh Võ
Sat 19 June 2021
Stream time / 3:00pm
---
This concert ranges widely, geographically and stylistically. This diversity is reflected in four world premieres: 
Iranian composer Sahba Aminikia's arrangement of Kavuki, a passionate Kurdish love song, sung by Shahram Nazeri
Hawa Kassé Mady Diabaté's delicate but propulsive Dulen filmed in Mali with daughter Rokia Kouyaté
Vietnamese composer/multi-instrumentalist Vân-Ánh Võ's Adrift, and Pink Book, with poetry by Kayla Pellom and film by Miguel Navarro of Sunset Youth Services. 
A brief Library of Congress film about the Gullah-Geechee culture of coastal Georgia is followed by composer/trumpeter Charlton Singleton's stirring Testimony, inspired by his childhood experience of Gullah-Geechee sacred music traditions. 
Frank Zappa's spiky None of the Above, written for Kronos, is featured in an excerpt from Alex Winter's documentary Zappa. 
Completing the program are three Kronos classics: George Crumb's God-music from Black Angels; Aleksandra Vrebalov's My Desert, My Rose; and Vladimir Martynov's radiant The Beatitudes.

This is followed by three short films:
Valerie Soe's Radical Care: The Auntie Sewing Squad (8 minutes)
With music by Susie Ibarra, director Valerie Soe celebrates the Auntie Sewing Squad collective of volunteer mask-makers, who have cut, sewn, and distributed hundreds of thousands of homemade face masks to marginalized and at-risk communities during the pandemic.
Sam Green: Five Thoughts on Thirty Pieces (14 minutes) – world premiere
Sam Green's short film essay will explore John Cage and the 1983 piece he wrote for Kronos entitled Thirty Pieces for String Quartet.

Bill Morrison's Buried News (12 minutes) – world premiere
Frequent Kronos collaborator Bill Morrison uses rare, early-20th century news footage to uncover ways that narratives about race have been used in the U.S. to divide people and maintain power.
Valerie Soe's Radical Care: The Auntie Sewing Squad
Sam Green: Five Thoughts on Thirty Pieces
Bill Morrison's Buried News