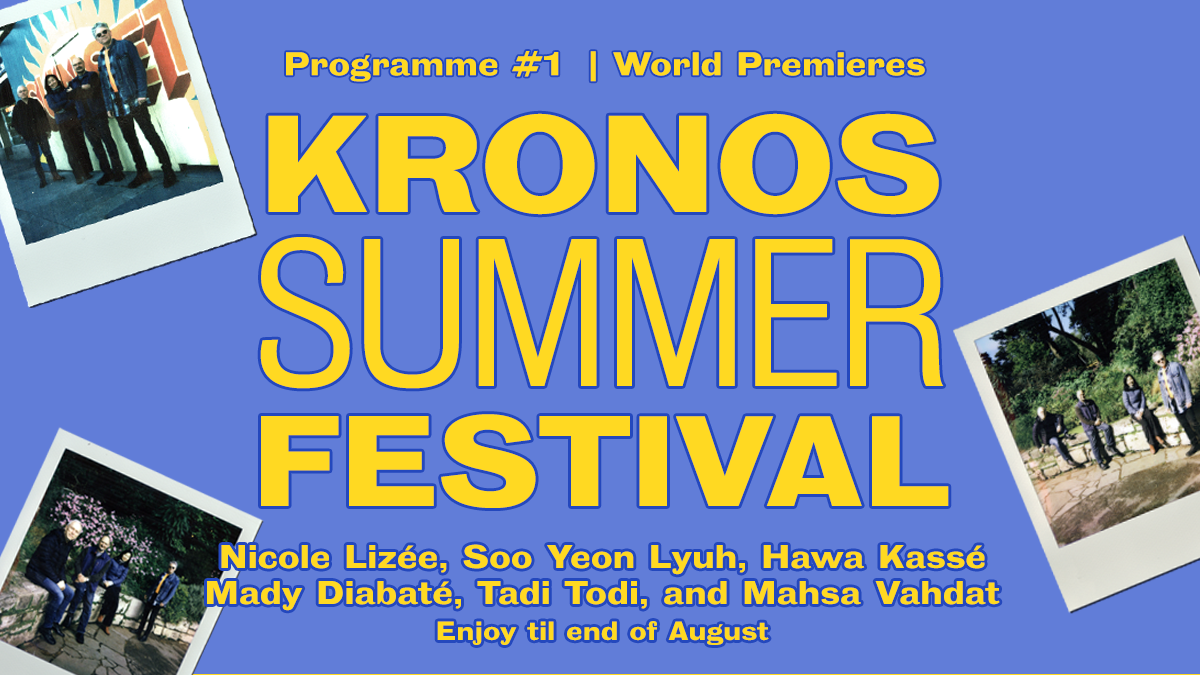 Kronos Summer Festival | Programme #1 | Nicole Lizée, Soo Yeon Lyuh, Hawa Kassé Mady Diabaté, Tadi Todi, and Mahsa Vahdat
Sat 19 June 2021
Stream time / 1:00pm
---
The Kronos Summer Festival opens with the world premiere of ZonelyHearts, with music and film by puckish Canadian composer Nicole Lizée. 
In another world premiere, Korean composer Soo Yeon Lyuh wrote Tattoo in response to a harrowing incident in Berkeley, California in which someone fired a gun at her car. 
Wawani, the first of three pieces by Malian singer Hawa Kassé Mady Diabaté to premiere at the festival, features Diabaté's joyous performance with daughter Rokia Kouyaté captured in a vibrant film, shot in Mali. 
Mahsa Vahdat's Vaya, Vaya, with music and text by the Iranian singer, is a deep expression of longing, with film by Laurie Olinder. 
Stacy Garrop's Glorious Mahalia, a celebration of the artistry of gospel icon Mahalia Jackson, is featured in the world premiere of a new film with San Francisco dance artist Tadi Todi. 
Also on the programme: inti figgis-vizueta's Music for Transitions, performed by special guest Andrew Yee, Clint Mansell's ominous Lux Aeterna, Jlin's driving, insistent Little Black Book, and Pete Seeger's anti-war lament Where Have All the Flowers Gone?, with singers Sam Amidon, Brian Carpenter, Lee Knight, and Aoife O'Donovan
WATCH THE FULL SHOW BELOW